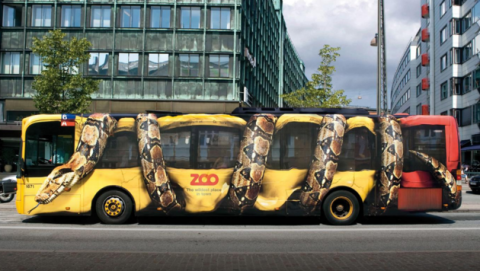 CREATIEF OP EEN BUS :-)
De tijden dat een bus gewoon een bus was zijn al lang voor bij. Tegenwoordig zijn bussen mobiele advertising platforms. Op iedere bus is wel een reclame te vinden en geef reclamebureaus en bedrijven eens ongelijk. Bussen rijden hele dag rond en zijn super zichtbaar. Als je inspeelt op de voordelen van een bus, kun je hele coole advertenties ontwerpen die behoorlijk de aandacht trekken.
Credits: McCann, Mexico.
Credits: Kit Walker Associates.
Credits: Glenn Karpel.
4. Community First Credit Union
Credits: I.D.E.A.S., Sydney, Australia.
Credits: WHYBIN\TBWA, Auckland, New Zealand.
Credits: The Brand Agency, Perth, Australia.
Credits: Point Of View, Tehran, Iran.
Credits: Bates Y&R, Copenhagen, Denmark.
Credits: Neue Lgk, Berne and Zurich, Switzerland.
11. Met hetzelfde gemak, gooi het in de afvalbak!
Credits: Grey Amsterdam, Nederland.
Credits: Lowe, Nederland.
Credits: Kim Sokola, Julia Neumann.
Credits: Unknown Agency.
Credits: National Geographic.
bron: Dutch Cowboys